Use Baking Soda and Lemon Juice for Perfect Pancakes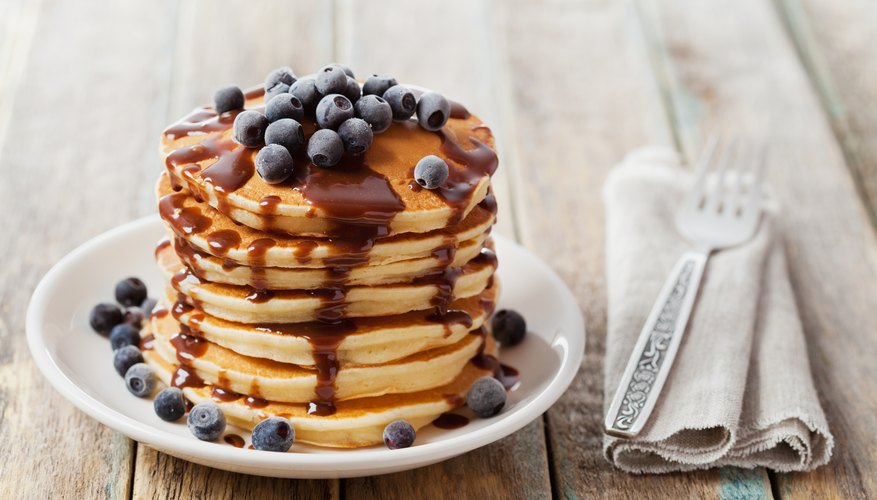 Julia_Sudnitskaya/iStock/GettyImages
The good news is that it's easy to make pancakes without baking powder. The even better news is that your family won't notice the difference. Because baking powder contains baking soda plus an acid, such as cream of tartar, you can substitute baking soda for the baking powder as long as you also add an acid to the mix.
This recipe calls for lemon juice as the acid, but you could experiment with other acidic ingredients too, such as buttermilk, yogurt or vinegar.
Tip
Always mix baking soda with the dry ingredients first before adding the wet ingredients. Baking soda becomes active and creates carbon dioxide bubbles immediately when it gets wet, but it loses those bubbles quickly, so you want to add moisture right before cooking the pancakes. Never use a wet spoon to dip into a baking soda box, because any amount of moisture activates its reactions.
Total Time: 15 minutes | Prep Time: 5 minutes | Serves: 4
Ingredients:
1 1/2 cups flour, white or wheat

2 teaspoons baking soda
1 teaspoon salt
2 cups milk
2 eggs
1 tablespoon plus 1 teaspoon lemon juice
2 tablespoons vegetable oil or butter
Tip
Substitute 3/4 cup of fine or medium-grind cornmeal for 3/4 cup of flour to make cornmeal pancakes with a bit of nutty flavor and chewy texture.
Directions:
Turn on a griddle or frying pan to medium-high.
In a medium mixing bowl, whisk together the flour, baking soda and salt.

In a separate bowl or small pitcher, using a fork or spoon, stir together the milk, eggs and lemon juice. Don't be alarmed if the milk curdles when you add the lemon juice; that's normal.
Pour the wet ingredients into the dry ingredients, and whisk them together until they are thoroughly blended. Add an additional tablespoon or two of milk if the batter seems too thick.
Spread 1 tablespoon of oil or butter on the griddle or frying pan, and ladle on about 1/2 cup of pancake batter for each pancake.
Cook one side of the pancakes until bubbles rise and pop from the middle of the pancake, and the edges of the pancake appear cooked, about 2 to 3 minutes. Flip the pancakes and cook them until they are golden brown on the bottom, about another 1 or 2 minutes.
Add the rest of the oil or butter to the pan to finish cooking the rest of the batter.
Tip
You can add any number of additional ingredients to these pancakes without changing the basic recipe. Try using 2 well-mashed, ripe bananas plus 1/2 cup of chopped walnuts. Or add 1/4 cup of nutty-flavored, toasted wheat germ and 1/2 cup currants. For a special treat, toss in 1/2 cup of mini chocolate chips.