Hearty Vegetable Lentil Soup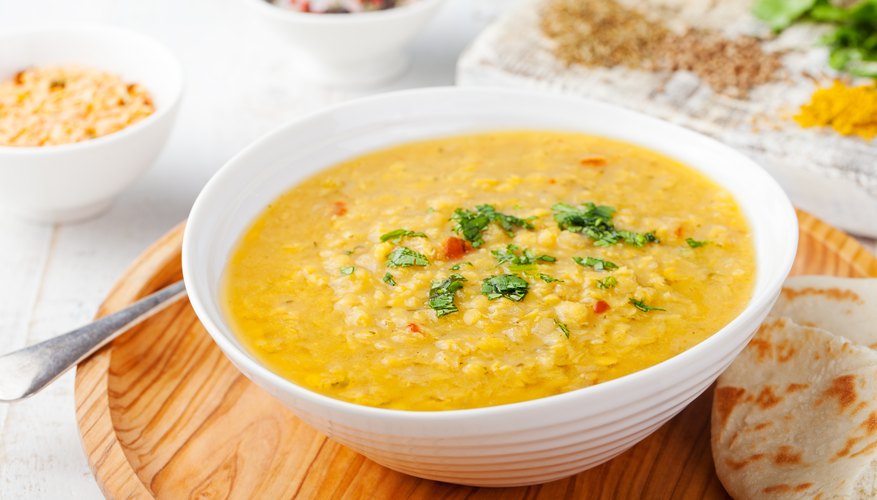 AnnaPustynnikova/iStock/GettyImages
On a cold night, nothing sounds better than a hot bowl of soup. While opening up a few cans of soup and heating them in the microwave is fine, you might feel a bit guilty about not putting more effort into feeding your family. And that's where your Crock-Pot comes in. Before you leave for work, you can easily gather the ingredients needed to make a delicious, hearty lentil soup and toss them into your Crock-Pot so something other than canned soup will be ready to serve as soon as you walk through the door.
This lentil soup recipe is a hearty vegetarian soup.
Total Time: 8 to 9 hours | Prep Time: 15 minutes | Serves: 8
Ingredients:
2 cups diced butternut squash
2 cups sliced carrots
2 cups sliced celery
2 cups chopped potatoes
2 cups lentils
1 medium onion chopped
2 teaspoons minced garlic
1 teaspoon thyme
1 teaspoon oregano
1 teaspoon sage
1 teaspoon rosemary

1 teaspoon kosher salt
1/2 teaspoon black pepper
10 cups vegetable broth
Directions:
In a 6- to 8-quart Crock-Pot, add all the ingredients.
Cover the Crock-Pot and cook for 8 to 9 hours.
Serve this lentil soup with whole grain bread and a bowl of mixed greens.
Tip
While this soup is already very veggie, you can add even more veggies before serving. Thirty minutes before you're ready to dish out your soup, add chopped spinach, kale or collards. Allow to cook in the Crock-Pot until soft.
Chicken or beef broth can be substituted for the vegetable broth.
You can easily alter the flavor of this soup by adding or changing the seasonings. Basil, sage, bay leaves or coriander also work well in this recipe.
If you like meat in your soup, you might prefer lentil soup with beef. Start by browning a pound of cubed sirloin steak over medium-high heat in a tablespoon of oil. Then, add the cooked meat to your Crock-Pot. Stir in 4 cups beef broth, 1 cup lentils, 3/4 cups diced red peppers, 3/4 cups diced green peppers, 1/2 cup diced onions and 1/2 cup diced carrots. Season your soup with 1 teaspoon cumin, 1 teaspoon cayenne pepper, 1 teaspoon kosher salt and 1/2 teaspoon black pepper. Cover your Crock-Pot and cook for 8 hours on low heat. It's not necessary to cook the meat before adding it to your Crock-Pot in this recipe, but browning meat helps enhance the flavor of both the meat and the soup.