A Pot Pie in Every Freezer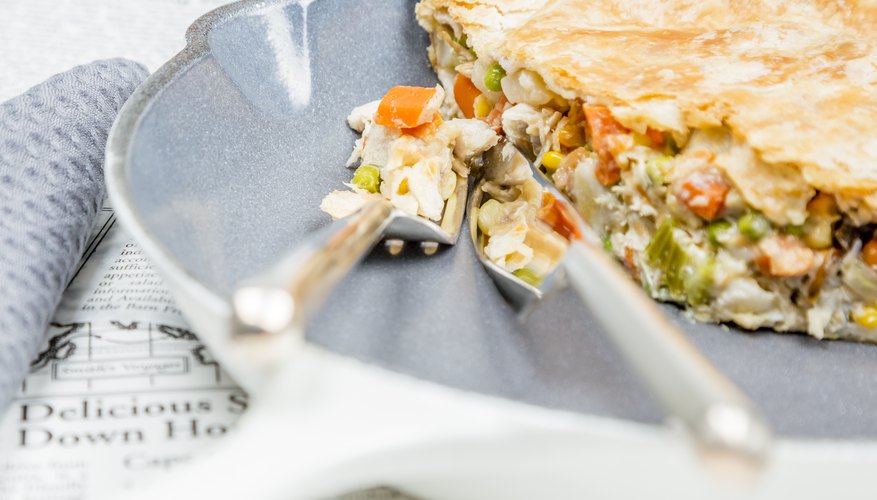 Gargolas/iStock/GettyImages
Hearty pot pies prepared and frozen can be future timesavers for busy moms. While you can freeze either baked or unbaked chicken pot pies, the unbaked dish promises more cooking success. A frozen baked crust turns soggy once you bake the pie because ice crystals leave moisture in the crust. But bake a pot pie that was unbaked when frozen and the crust begins to bake before it has a chance to thaw and become soggy.
This recipe calls for an unbaked pot pie. Use your favorite recipe for one large pot pie or for smaller, individual pot pies. This freezing method works for either size.
Tip
Both baked and unbaked pot pies keep the quality of the filling for four to six months in the freezer, even though the quality of the baked crust suffers. Both types stay safe indefinitely if your freezer stays at or below 0 degrees Fahrenheit.
Total Time: 8 minutes | Prep Time: 8 minutes | Serves: N/A
Ingredients:
1 chicken pot pie, unbaked

Plastic wrap, freezer-quality
Aluminum foil
Directions:
Using heavyweight, freezer-grade plastic, wrap the entire pie, including the top and the bottom of the pot or pie pan. You don't need to let the pie filling cool before wrapping.

Using aluminum foil, wrap the entire pot pie again from top to bottom.
Place the wrapped pot pie in the freezer, allowing at least 3 inches on all sides to speed freezing.
Tip
This freezing method works for not only traditional chicken pot pie, but for other savory pies as well. Experiment with other meat pies such as Greek spanakopita, which is a spinach pot pie with a phyllo crust. Or try a tourtiere, a Quebec pork-and-beef pie that has ground beef, ground pork and potatoes spiced with cloves and allspice and cooked in a pastry crust.
Warning
Due to reported incidents of spontaneous shattering in some glass bakeware, it's important to carefully follow the manufacturer's warnings and usage instructions.
Tip
As long as you have made the pot pie in a metal pot or pie pan, you can bake it while it's still frozen. Add about 20 minutes to your baking time when you bake a frozen pie. The pie will be done when the crust turns golden-brown and the internal temperature shows 165 degrees Fahrenheit when checked with a food thermometer.