How to Make a Simple Taco Salad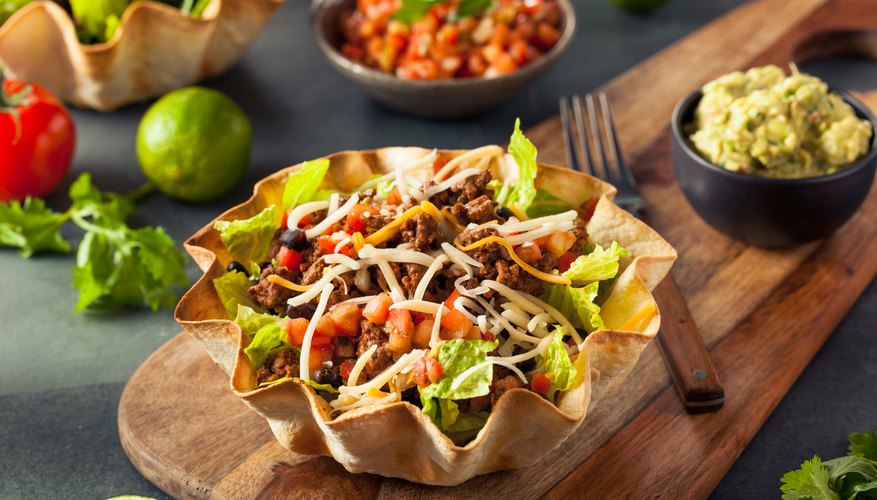 bhofack2/iStock/GettyImages
When you crave something warm but fresh and crunchy but meaty, little else fits the bill as well as taco salad. This simple recipe allows you to create a light Mexican feast in 30 minutes. It's a perfect spur-of-the-moment meal that allows you to invent it as you go, whether you add additional veggies, such as diced tomatoes, or use seasoned tortilla chips rather than plain for more zest.
Total Time: 30 minutes | Prep Time: 20 minutes | Serves: 6
Ingredients:
1 pound ground beef or turkey

1 packet reduced-sodium taco seasoning

3/4 cup water

1 bag shredded lettuce (or 1 head, shredded)

2 cups shredded Mexican-blend cheese

2 cups lightly crushed tortilla chips

1/4 cup French dressing

Directions:
In a large skillet, cook the meat over medium heat for about 7 minutes, or until it's no longer pink.

Crumble the meat, then drain it in a colander over your sink.

Place the meat back into the skillet, adding the taco seasoning and water. Bring this to a boil.

Reduce the heat to low, then simmer the mixture uncovered for about 5 minutes, or until it thickens.

Remove the skillet from the heat, allowing it to cool while you prepare the rest of the salad.

In a large bowl, toss the lettuce with the cheese.

Top the mixture with the meat, chips and salad dressing.

Lightly toss the ingredients together, then serve the salad immediately.

Tip
If you know you'll be short on time before dinner, prepare the meat the evening or morning beforehand, and then refrigerate it in a covered container. When you're about ready to make the salad, quickly reheat the meat in your microwave or on the stove. Allow it to cool to a warm temperature while you follow the remaining steps. If you don't mind or prefer cold meat, skip the reheating entirely.